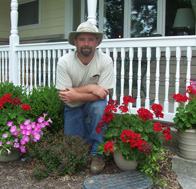 Wellman's LandVision (WLV) is a residential and commercial landscape, construction, and excavation business specializing in the following areas: Design and Installation of Outdoor Living Areas, Patios, Walkways, Walls, Landscaping, Outdoor Lighting, Structures, Lawn Applications, and Water Management. WLV also specializes in Maintenance and Snow/Ice Removal Services.
Patrick (owner) has studied various subjects including construction engineering technology, surveying, business administration, and landscape architecture and has earned a BS degree and various certificates. He is currently a Belgard Authorized Contractor and has earned national certifications from the Interlocking Concrete Pavement Institute (ICPI) for the installation of concrete pavers and the National Concrete Masonry Association (NCMA) for the installation of segmented retaining walls. In addition to the above certificates, Patrick is a Certified Paverlock and Allan Block Installer, while also being a graduate of the Landscape Lighting Academy for the design and installation of low voltage lighting systems.
Wellman's LandVision believes the client comes first and quality is never to be compromised. WLV treats each client with fairness and equality, while installing the highest quality materials with precision craftsmanship.
WLV's goal is to create a unique, highly functional, and aesthetically pleasing landscape. Patrick's expertise in hardscape design, layout, and construction, along with the faithful partnership of a Registered Landscape Architect, provides you with unparalleled service at an affordable cost.