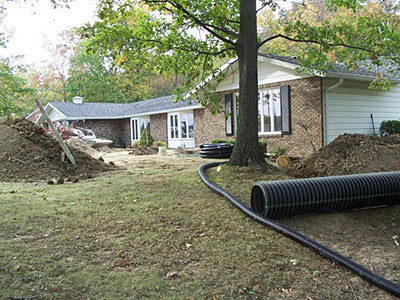 We at Wellman's LandVision (WLV) offer customized water management services that will meet your needs and fit your budget. We have been serving the local area for over 18 years and this time have handled a significant number of turf maintenance projects for commercial and residential clients.
Creating stunning outdoor spaces is what we are passionate about. In addition to our creativity and skill in designing and planning landscapes, we are also mindful of aspects such as safety and sustainability, and correct water management is a big part of that. This job requires a good understanding of grading and how various stormwater management and drainage systems work in tandem to direct water away from your property into the city's main drains.
Residential and Commercial Water Management Solutions
Our team of experts will survey the areas to understand the topography of the land, which is even more essential for commercial properties that are more expansive.
This is a crucial aspect of all landscape planning and design, and we have the expertise and knowledge to handle it well. Every property will have specific characteristics and different types of features and elements that need to be planned in a way that they can handle the water run-off from various areas of the property. Our training, vast experience, and expertise in the field, enable us to provide custom water management systems to our clients. Whether you need sump pumps installed in crawl spaces or French drains and swales installed in your yard, we can help.
Wellman's LandVision (WLV) views water management as a top priority during all phases of the construction process as it is often an overlooked item. Poor water management can cause several problems. These problems can range from base or foundation failure, leach field failure, flooded basements and crawl spaces, and stunted growth or complete loss of nursery stock and vegetation. Wellman's LandVision will analyze the current watershed of the proposed building site during the planning phase and then propose the most ecological and cost-effective solution. Our water management services include the following:
Septic Systems (Adams & Wells County, Indiana)
Downspout Drains & Footer Drains
Sanitary & Storm Sewer Drains
Interior & Exterior Sump Pits & Pumps
Grading of Swales & Waterways
We offer reliable services at very cost-effective water management costs. For any more information related to our water management services, feel free to contact Wellman's LandVision (WLV) at this number – 260-728-2976. You can also drop us an email with details of your project through this Online Form, and one of our team members will contact you soon.