When you are getting any landscape work done on your property, there would be a certain amount of excavation needed. Before you start with constructing hardscaping features or installing plantings, various areas of outdoor spaces would need to be excavated, graded and prepped. This is a specialized job, and you need the experience, knowledge as well as right equipment that only a credible operator like us would be able to provide.
We at Wellman's LandVision (WLV) offer customized excavation services that will meet your needs and fit your budget. Not only do we have the right equipment and tools for the job, but our operators are highly skilled in handling the excavation equipment. They complete the tasks safely and efficiently and can tackle projects of any size and shape.
Professional Local Excavation Services
We have been serving the local area for over 18 years and this time have handled a significant number of similar projects for commercial and residential clients.  While we never compromise on the quality aspect, we maintain extremely competitive yard excavation costs.  In most of our projects, excavation is part and parcel of the overall landscaping projects. 
Our Excavation Process
Our team will first survey the areas and determine where all the utility lines are located under the ground before they start the landscape excavation work. They will then create a detailed plan and schedule so that the project is completed in a timely way.
We understand that excavation is one of the first stages of the project, and it needs to be completed on time so that the next step can be started. As a company that provides comprehensive landscape excavation and site prep solutions, you can trust us to handle the job to industry standards. For more detailed information related to our landscape excavation and grading services, contact Wellman's LandVision (WLV) at this number – 260-728-2976. You can also drop us an email, with details of your project through this Online Form and one of our team members will contact you soon.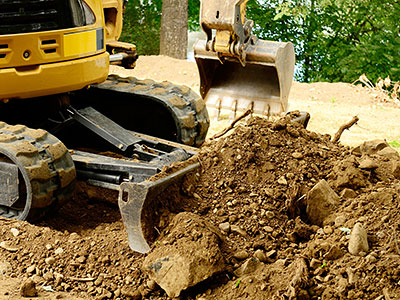 Wellman's LandVision (WLV) offers the following Excavating services with the same attention to detail as our previously described services.
Backhoe Services
Septic System Install & Repair (Adams & Wells Counties)
Sanitary & Storm Sewers
Wells, Footers, Electric Lines, & Water Lines
Entrances & Culverts (County or INDOT)
Trenching
Electric Lines & Water Lines
Downspouts
Concrete
Demolition & Removal
Installation of Driveways, Sidewalks, & Patios
Auger
Post Holes – Sizes 6″ to 36″
Installation of Commercial Signs
Grading & Installation
Aggregate Parking Lots & Driveways
Hauling
Soil, Sand, Aggregates, & Debris