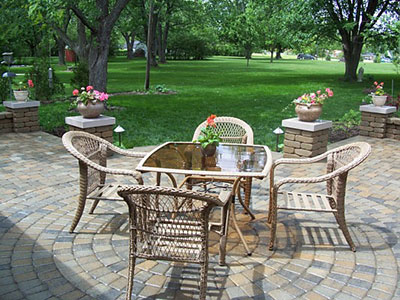 Every landscape is a mix-and-match of softscaping and hardscaping. These elements and features need to be used in the right measure to create perfectly balanced outdoor areas. Hardscaping includes all the masonry elements such as driveways, walkways, pathways, decks, patios, etc.
The fire features and installations such as garden steps, retaining walls, seating walls, curing and edging as well as planters, etc. are all part and parcel of a property's hardscaping. We at Wellman's LandVision (WLV) offer customized hardscape design and installation services that will meet your needs and fit your budget.
Affordable Hardscaping Installation Solutions
We have been serving the local area for over 18 years and this time have handled a significant number of similar projects for commercial and residential clients. Creating stunning outdoor spaces is what we are passionate about, and our expertise lies in offering reliable services at very cost-effective hardscaping costs.
We work with our clients, and assess the property and the layout. Our hardscape designers will then discuss which elements and features would provide optimal functionality while making the best use of the available area. We use high-quality materials in our projects and cover all our workmanship with guarantees. 
Skilled Local Hardscaping Specialists
Our expertise in the field is unmatched, and our commitment to quality is something that never changes. When we are creating hardscape designs and layouts, we make sure that all the spaces flow seamlessly into one another and that the overall design concept and theme are maintained in all the features that we install on your property.
Wellman's LandVision's (WLV) hardscape designer and installer are ICPI (Interlocking Concrete Pavement Institute) and NCMA (National ConcreteMasonry Association) certified, assuring your new hardscape will be properly designed and installed according to their respective specifications. WLV will then create an outdoor living area, patio, walkway, or wall that will harmonize with the surrounding landscaping.
Your completed project will carry an unmatched warranty and will bring you years of enjoyment.
Please contact us for additional information about our Warranty Terms, Maintenance Contracts, and Extended Warranties.