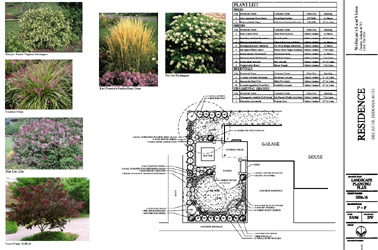 Wellman's LandVision (WLV) believes the design phase is the most important step in your landscape, construction, or excavation project. The design phase includes an array of variables that need to be carefully considered. Wellman's LandVision addresses each of these variables ranging from your needs, desires, and vision to water management and the architecture of the existing structures. After being properly addressed and incorporated into the design, your completed project will increase the value of your home or business and provide a lifetime of enjoyment.
We at Wellman's LandVision (WLV) offer customized landscape design services that will meet your needs and fit your budget. Our team of landscape designers is creative and innovative in their approach. They make sure that all the elements and features included in the landscape plans and layouts complement each other and are purposeful.
Custom Landscape Design Solutions
We have been serving the local area for over 18 years and this time have handled a significant number of similar projects for commercial and residential clients. Our skills, knowledge, and commitment have helped us create a substantial client base in the region.
Creating stunning outdoor spaces is what we are passionate about, and our expertise lies in offering reliable services at very cost-effective landscape planning costs. We can handle landscape design and planning for commercial and residential clients.
Our team will plan your yard with the same attention to detail as a commercial landscape. We can include various features in the landscape plans, such as all the plantings, trees, and lawn spaces. The planter and flower beds will also be included as required.
Landscape Planning and Layout
If you need outdoor living features in the design, we help with that too. Our skill lies in creating aesthetically appealing outdoor spaces that also include fire features and water features as well as outdoor structures such as pergolas, gazebos, trellises, etc. We also plan the materials to be used and have detailed discussions without clients during the design phase.
The excavation and grading plans and drainage and irrigation system design will be part of this phase. This detailed and comprehensive approach goes a long way in ensuring that your landscape is truly a class apart.
For any more information related to our landscape design services, feel free to contact Wellman's LandVision (WLV) at this number – 260-728-2976. You can also drop us an email with details of your project through this Online Form, and one of our team members will contact you soon.