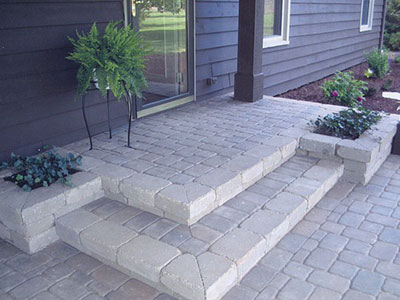 The beauty and sustainability of your landscaping depend on the types of materials and quality of installation techniques used in the job. Also, what is probably more important is that you need to maintain all the features in these outdoor spaces with regularity.
Every property owner that has landscaping on their premises knows how much effort goes into maintaining hardscapes. Not only does this job require skill and knowledge, but the right types of commercial hardscape cleaning equipment as well. It is where our services come into the picture.
Custom Hardscape Maintenance Solutions
We at Wellman's LandVision (WLV) offer customized hardscape maintenance services that will meet your needs and fit your budget. We have been serving the local area for over 18 years and in this time have handled a significant number of similar projects for commercial and residential clients. Over the years, we have created a very substantial customer base across the region.
Many of our clients have been with us for several years and trust only us to handle all their local hardscape maintenance jobs. In most instances, we have provided the initial landscape design and installation services as well.
It puts us in a unique position as we know exactly how all these features have been installed and the type of care that they would need. Even if you need us to maintain the existing hardscaping features on your property, we can provide you with the services too.
Range of Hardscape Maintenance Services
Creating stunning outdoor spaces is what we are passionate about. But we also know that the maintenance of these features is crucial to their appearance and performance. Our expertise lies in offering reliable services at very cost-effective hardscape maintenance costs. We handle the maintenance of various types of hardscaping features that could exist in any landscape, including the cleaning of:
Patios and decks
Poolscapes
Outdoor Kitchens
Driveways, walkways, Pathways
Garden steps and retaining walls
Boundary walls and seating walls
Fire features and the areas surrounding them
Water features
Outdoor structures- pergolas, pavilions etc.
Other
In addition to these solutions, we also handle jobs such as sanding and sealing pavers. If any of the paver units have suffered damage or have deteriorated, we can even replace those as part of our hardscape maintenance solutions. We use the latest technology and equipment in our work, and this improves the efficiency of our staff.
Professional Local Hardscaping Specialist
It means that your hardscape cleaning and maintenance will be done very quickly with no compromise on quality. When we handle these projects, we complete the tasks with the least amount of disturbance and as at your convenience. Our team ensures that our work does not affect the regular workings on your property.
Well-maintained hardscaping improves not only the appearance of your outdoor spaces but also the lifespan of all the features that you have invested in. It helps to improve the curb appeal of your property and its value as well. For any more information related to our hardscape maintenance services, feel free to contact Wellman's LandVision (WLV) at this number – 260-728-2976. You can also drop us an email, with details of your project through this Online Form and one of our team members will contact you soon.