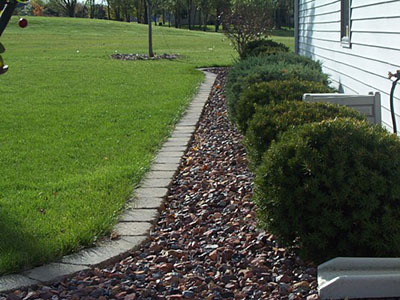 Wellman's LandVision's (WLV) landscape design team consists of a Registered Landscape Architect (RLA) who works closely with WLV's lead installer to provide the client with a professional and unique landscape. This close partnership ensures that proper placement, scale, exposure, and plant selection will complement the architectural style of the existing structures and the planned use of the site.
Please contact us for additional information about our Warranty Terms, Maintenance Contracts, and Extended Warranties.
Just as you as a property owner focus on getting the interior areas of your home or commercial building designed professionally, it is necessary to make sure that the outdoor spaces are designed well too. All the features in outdoor spaces need to be well balanced, structured correctly and proportioned well to create the right ambiance and aesthetic.
Apart from the appearance, when you have correctly planned hardscapes and softscapes, it enables you to use the outdoor spaces optimally while enhancing the appeal and value of your property as well.
Landscape Design Ideas
Designing a landscape requires a significant amount of skill, and creativity, as well as a good understanding of different types of horticultural aspects and hardscaping concepts. We at Wellman's LandVision (WLV) offer customized landscaping services that will meet your needs and fit your budget. Our team of experts takes the time to understand what your ideas and vision for the outer areas are before providing their ideas and inputs. 
They will make sure that any landscape layout and plans that they offer are practical. Our professional designers will also make sure that the structures, features and plantings etc. that they recommend are easy to maintain as that helps to reduce the cost of ownership of your landscaped areas.
Experienced Landscaping Company
We have been serving the local area for over 18 years. Not only do we have the expertise and skill to handle all types of residential and commercial landscape designing and planning jobs but also will make sure that all these features are installed to industry standards. We use the best materials and techniques in every project, so your landscape installations are completed within the shortest time. For any more information related to our landscaping services, feel free to contact Wellman's LandVision (WLV) at this number – 260-728-2976. You can also drop us an email, with details of your project through this Online Form and one of our team members will contact you soon.