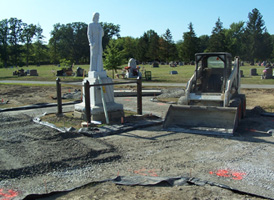 Wellman's LandVision (WLV) will take your properly designed landscape, construction, or excavation plan and safely install it according to local and national specifications and the manufacturer's recommendations. The installation will be performed by a knowledgeable and experienced craftsman who is ICPI (Interlocking Concrete Pavement Institute) and NCMA (National ConcreteMasonry Association) certified and your finished project will carry an unmatched installation warranty. Wellman's LandVision stands behind all of its installation work and annually inspects and evaluates your project during the warranty period.
Please contact us for additional information about our Warranty Terms, Maintenance Contracts, and Extended Warranties.
We at Wellman's LandVision (WLV) offer customized landscape installation services that will meet your needs and fit your budget. We have been serving the local area for over 18 years and this time have handled a significant number of similar projects for commercial and residential clients. 
We have the skills, resources and knowledge required to handle all types of landscape construction tasks to industry standards. We never compromise on the quality of work, and that means your outdoor spaces will be resilient, easy to maintain and long-lasting.
On our team are highly skilled paver installers, stonemasons and hardscaping experts that have vast experience in installing different types of structures and features. Whether you need your patio or deck paved, garden steps, retaining walls, water features or fire features built, we are the company that can help.
Professional Landscape Installation
Since we use the latest technology in our work, our team of experts can complete every aspect of the job quickly and efficiently without compromising on quality. As mentioned earlier, we use high-grade materials that are covered by manufacturer warranties, and our company covers our work by guarantees as well. So, you can trust that we will complete the commercial landscape installation correctly the first time around. 
In addition to handling all the hardscape installation work, we also tackle every aspect of excavation and site work. It means that we provide comprehensive solutions that meet all your landscape installation requirements. Whether you need a small yard installed or a larger commercial landscape constructed, our company has the capabilities to handle the job.
For any additional information related to our landscape installation services, please contact Wellman's LandVision (WLV) at 260-728-2976. You can send us details of your project via this Online Form and one of our team members will contact you soon.