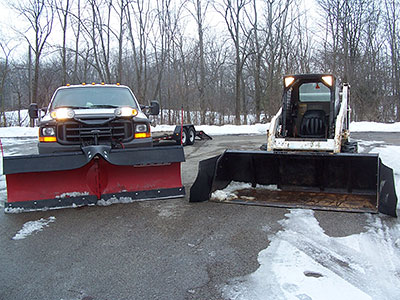 Wellman's LandVision (WLV) offers snow and ice removal for commercial and residential clients. Our goal is to create a safe and inviting environment for your clients, employees, and family. We respect their safety as much as you and diligently strive to achieve that goal.
We understand that snow and ice removal expenses need to be kept to a minimum without exposing you and/or your business to additional expenses due to injuries. In keeping expenses to a minimum, WLV prorates its services and will never charge full rates for time not spent clearing snow or ice. WLV also inspects and checks all locations at no additional charge.Whether you have an easily accessible or highly difficult area to be cleared, we have the solution and guarantee you will be pleased with the results. We can be reached 24/7 during the snow and ice removal season.
We at Wellman's LandVision (WLV) offer customized snow and ice-clearing services that will meet your needs right through the winter season. We have been serving the local area for over 18 years. During this time, we have provided these services to a significant number of commercial and residential clients. Our customer base keeps increasing with each passing year, and our clients know they can trust us for all their snow and ice-clearing requirements.
Latest Ice Removal Equipment
While we are reliable and prompt in our response, we maintain very affordable snow & ice removal costs. We also know that sometimes snowstorms can occur when you least expect them. At times such as these, you need to be sure that skilled and experienced snow removal professionals will respond and rush to your location within the shortest possible time.
24/7 Snow and Ice Removal
You cannot predict when there will be heavy snowfall, and you will be snowed in. But that is not something you need to be worried about. Let our team stress about the weather and snow. During the winter months, we are on call 24/7, and we make it our business to keep track of the existing weather conditions.
Once you opt for our snow removal contract, we will reach your location and clear the snow within the shortest possible time. You can also contact us for one-off snow removal services if you need them. Depending on the conditions, we use a mix-and-match of commercial snow removal equipment and manual tools to clear snow and ice from all the outdoor areas of your property. We will also remove all the ice and deposit it in another location. For any more information related to our lawn maintenance services, feel free to contact Wellman's LandVision (WLV) at this number – 260-728-2976. You can also drop us an email with details of your project through this Online Form, and one of our team members will contact you soon.