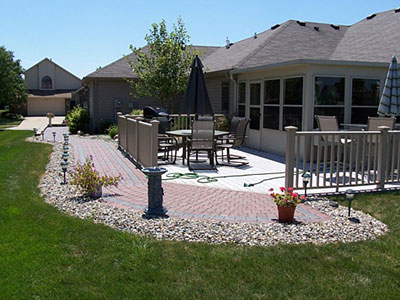 We at Wellman's LandVision (WLV) offer customized outdoor structure designs and installation services that will meet your needs and fit your budget. We have been serving the local area for over 18 years and in this time have handled a significant number of similar projects for commercial and residential clients. Creating well-balanced, purposeful and appealing outdoor spaces is a lot about incorporating the right kinds of outdoor structures.
Custom Designed Outdoor Structures
We are incredibly passionate about what we do, and this is reflected in the services we offer our clients. But in addition to our passion, we are also creative and innovative and work to ensure our clients get solutions that will enable them to use their outdoor spaces optimally. Each client will have a specific idea about how they want their yard to look. Some want straightforward yet elegant semi-shade structures, and that is when we recommend either pergolas or arbors.
If you prefer something more solid, which also provides better protection from the elements, we can create a custom-designed gazebo for you. Our designers will present their inputs and outdoor structure ideas so that you get a practical and resilient feature that will blend in well with all the other elements in your landscape.
Fence Design and Installation Services
Many of our clients also request fences and railings, and we can design commercial or residential wooden fencing that meets your preferences and fits into your budget. We work with the best materials and provide guaranteed workmanship. Whether you need outdoor structure design and build services as part of your new landscape project or a yard upgrade, we are the company that can help.
Wellman's LandVision (WLV) will evaluate and incorporate the most appropriate and cost-effective structures for your landscape project. Structures primarily consist of trellises, arbors, pergolas, gazebos, and fences. Structures provide scale, protection, shadowing, and support for overhead and vertically mounted objects in areas for entertaining and socializing. These structures can vary widely in height, pattern, and character.
Please contact us for additional information about our Warranty Terms, Maintenance Contracts, and Extended Warranties.