Landscape & Hardscape Services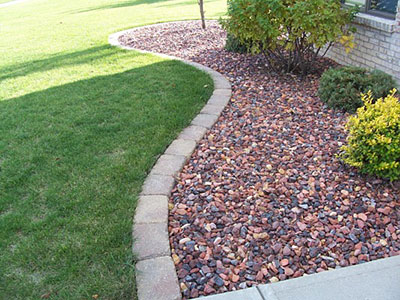 We at Wellman's LandVision (WLV) offer customized and personalized landscape design and maintenance services that will meet your needs and fit your budget. We are a reputed company that has been serving the local area for over 18 years. During this time, our company has handled a significant number of big and small landscaping projects for commercial and residential clients.
We also offer a wide range of landscaping products to our clients. Creating stunning outdoor spaces is our passion, and we have the expertise and experience to provide reliable and efficient services at very cost-effective landscaping costs. These are the range of services we offer:
Lawn Maintenance
Maintaining the lawns on your property requires time and effort. In addition to regular mowing, the soil also needs to be aerated well, fertilized and de-weeded regularly. The grass needs to be trimmed at regular intervals, and proper pest control applications are required. Different types of lawns have different species of grass, which means that they also need specific types of soils to grow well and thrive. We offer high-quality lawn maintenance solutions to our commercial and residential clients and ensure that their lawns are always in good condition, so they are healthy and look great. Read More About Lawn Maintenance >>
Hardscape Maintenance
Hardscaping is an essential aspect of any landscape. This includes everything ranging from patios, decks, poolscaping, and paved areas, as well as garden steps, retaining walls, planters, and more. While all of these are tough and hardy features built using outdoor quality materials, they too require regular maintenance. Our company offers the best hardscape maintenance solutions, and we cater to both residential and commercial customers. When you opt for these services, our team will come in at specific intervals and clean all the paved areas as well as the masonry elements on your property. They will also ensure that the fire features and other masonry structures are cleaned properly. Read More About Hardscape Maintenance >>
Landscape Design
In any landscaping project, the design and planning phase is crucial. It is at this stage that skilled designers provide the right kind of layouts, and have discussions with their clients to understand what their specific requirements are. We know precisely how crucial this aspect is and take the time and trouble to discuss your requirements before providing any solutions. We make sure that the landscape designs we offer are in line with your needs. Our experts create plans that will make optimal use of the available space while enhancing the beauty of your property. During the design phase, we also help our clients with material selections so that they can get the kind of landscape that meets their ideas and vision. Read More About Landscape Design >>
Landscape Installation
Once you have approved the landscape design and layout, we move on to the landscape installation stage. Our team of paver installers, masons as well as expert retaining wall installers handle every job to industry standards. They follow the layouts & plans you have approved and complete the installation as per plan. We have project managers and on-site supervisors that oversee the entire project and manage it expertly within the committed time frame. We never compromise on the quality of the work or the materials used, which means you get resilient and long-lasting landscapes. Read More About Landscape Installation >>
Hardscaping
Hardscaping is the base or foundation of any landscape. If the areas of your property have resilient hardscapes, the rest of the features and elements will be stable and robust.  We offer high-quality hardscaping solutions. Our team of designers works with you to ensure that all features and structures are in line with your requirements. We use the best materials in construction and have skilled and experienced installers on our team. This detailed approach and focus on quality help ensure that the hardscaping on your premises lasts for many years. It will be practical and easy to maintain, which increases the value of your property. Read More About Hardscaping >>
Landscaping
When it comes to landscaping, there is nothing we cannot handle. We offer all-around landscaping solutions. Our company has the skills, resources as well as experience and expertise to tackle every job to industry standards. We are committed to providing our clients value for money, and our team is highly creative and innovative in its approach. They make sure that all the softscaping and hardscaping features that are installed on your property meet your requirements and are in line with the designs and plans that you have approved. We make sure that every element in your landscape is built to last and that it increases the value of your home or commercial establishment. Read More About Landscaping >>
Landscape Lighting
When you have beautiful outdoor spaces, you would like to use them after dark as well. Even on commercial properties, the right kind of exterior lighting uplifts the look of the property and creates a great ambiance and impression too. We offer the best landscape lighting solutions to residential and commercial clients. Our company focuses on using the best quality outdoor-grade materials in the landscape lighting projects that we handle. In most instances, landscape installation becomes part and parcel of an overall landscape designing project. However, if you feel that your existing landscape has inadequate illumination or needs a boost, we can install the type of landscape lighting that you need. Read More About Landscape Lighting >>
Outdoor Structures
In addition to the regular hardscaping and softscaping features, it is a good idea to install some outdoor structures such as pergolas, gazebos, arbors, trellises, etc. These structures add balance and perspective to the outdoor areas while lending a certain amount of shade to the landscaping. We are a company that provides comprehensive landscaping solutions and offers customized outdoor structure design and installation services. These outdoor elements will be constructed using high-grade materials and the best plans, so you have unique features on your property that are a pleasure to use. Read More About Outdoor Structures >>
Lawn Applications
The health and appearance of your lawns depend on how well they have been maintained. We provide excellent lawn care solutions, which also include lawn applications such as fertilizers and pest control products. While we use effective products, they are not harmful either to the plantings or to the soil. When we handle these jobs, we assess the types of grass that you have on your property before deciding what kind of applications would work best. We also schedule these applications correctly so that your turf gets proper nutrition as well as protection from various lawn pests. Read More About Lawn Applications >>
Landscape Maintenance
Creating a beautiful landscape is only one aspect of having attractive outdoor spaces. Once you have got these areas designed and installed by experts like us, you also need to make sure that all the features are maintained correctly. We offer the best landscape maintenance solutions and cover everything from softscaping and hardscaping to water features and fire features in this job. We use the best quality materials and technology in cleaning various features and elements in your landscape, which increases their longevity and sustainability. We always customize our solutions so that your landscape gets the kind of attention and care it needs. Read More About Landscape Maintenance >>
Water Management
Every landscape will have some amount of runoff and water getting drained from various areas. It is necessary to manage this flow correctly so that there is no flooding or pooling of water on your property. Any accumulated water will damage not only the hardscaping but also the plantings and grass in your landscape. Also, if the water begins to flow back towards the structure on the property, it can cause extensive damage to the foundation and get into the basement as well. We handle water management projects and install various features such as French drains, channel drains as well as sump pumps, swales and more. These installations help to direct the excess water from your property to the appropriate spots outside your property's boundary. Read More About Water Management >>
Excavating
Excavation is a crucial aspect of any project. We offer the best excavation and small demolition services to our residential and commercial clients. Our technicians are highly skilled and use the latest excavating equipment in every project. We make sure that this job is completed safely and as per industry standards. Before we start with any excavating job, we survey the available space and make sure that there are no obstructions or utility lines under the ground in that area. Our team also makes sure that the excavation work is completed quickly and efficiently so that the next phase of the project can start without any delays or glitches. Read More About Excavating >>
Snow & Ice Removal
The winter months can be extremely harrowing, and it can be tough to handle snow and ice removal. In addition to our excellent hardscaping and landscaping solutions, we also offer snow and ice removal right through the winter months. We work 24/7 during this time and make sure that our clients get prompt and efficient ice and snow management services. We have invested in the latest equipment and tools, and our technicians are highly trained to handle all types of snow and ice removal jobs safely and efficiently. Whether you opt for a snow removal contract or hire us for a one-off project, you can trust us to provide you with the best solutions. Read More About Snow & Ice Removal >>
We know what it takes to provide our clients with value for money, and our team is here to help with every aspect of your landscaping project. For any more information or details related to our extensive landscaping services feel free to contact Wellman's LandVision (WLV) at this number – 260-728-2976.
Our experts are here to answer questions and get your project started on the right foot. You can also drop us an email with details of your project through this Online Form, and one of our team members will contact you soon.