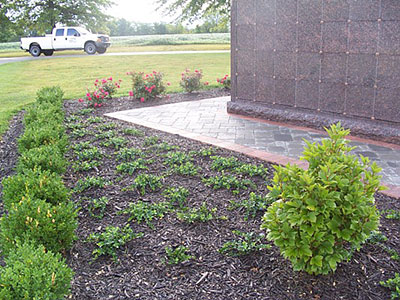 Wellman's LandVision's (WLV) goal is for you to enjoy your completed landscape project and your existing landscaping. In addition to performing routine lawn and landscape maintenance as outlined on the Services Page under Maintenance, WLV inspects completed landscape projects (Hardscapes, Softscapes, and Structures) annually during the warranty period as a courtesy to our valued clients.
WLV will rectify warranty items and will perform minor maintenance at no charge. WLV will notify the client if additional maintenance on non-warranty items needs to be performed or corrected, such as cleaning and sealing of pavers, joint maintenance, or replacement of nursery stock. WLV will continue to perform annual inspections after the warranty period has expired if a Maintenance Contract has been agreed upon. Please contact us for additional information about our Warranty Terms, Maintenance Contracts, and Extended Warranties.
Once you have gotten your landscape designed and installed by professional landscapers, it is also necessary to make sure that all the features are maintained with regularity. Just as you need to make sure that the plantings, trees as well as grass are maintained well, the hardscaping features also need regular attention.
The beauty, resilience, longevity and sustainability of various features in the landscaping depend on how well you have maintained them. Hiring a skilled and proven landscape maintenance company like ours is one of the best ways to make sure that every feature in your landscape is cared for so that it enhances the overall appeal of your outdoor spaces while increasing their value.
Custom Landscape Maintenance Solutions
Our company recognizes that every landscape is different, and that each client will have very particular requirements. It is why we at Wellman's LandVision (WLV) offer customized landscape maintenance services that will meet your needs and fit your budget. We take the time to assess all the various features in your landscape and have detailed discussions with you before creating a landscape maintenance plan.
We have been serving the local area for over 18 years and this time have handled a significant number of similar projects for commercial and residential clients. We have built an excellent customer base in the region, and these property owners trust only us to handle all their landscape maintenance requirements.
Comprehensive Landscape Maintenance Services
Creating stunning outdoor spaces is what we are passionate about, and our expertise lies in offering reliable services at very affordable landscape maintenance costs. It means you never have to think twice before hiring us for these jobs.
As part of the plans or packages, we cover all aspects of paver and hardscape cleaning, lawn and planting maintenance. So, all the hardscaping and landscaping on your property will look great and stay in good condition for longer. For any more information related to our landscape maintenance services, feel free to contact Wellman's LandVision (WLV) at this number – 260-728-2976. You can also drop us an email, with details of your project through this Online Form and one of our team members will contact you soon.