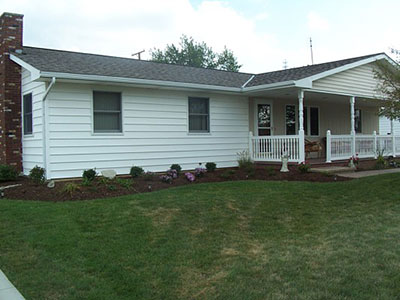 The turf on your property adds a very green and lively look to the outer areas. It also provides a green and fresh backdrop for all the planting trees and hardscaping elements on the property. However, when you have any grass in the landscape, it needs regular care and attention. It is not a feature that you can install and forget.
Even if you handle regular mowing yourself, the grass needs water and nutrition, de-weeding, pest control treatments, aeration and more. Since there are many aspects involved in lawn maintenance, it makes a lot of sense to hire professionals that provide comprehensive solutions.
Custom Lawn Maintenance Services
We at Wellman's LandVision (WLV) offer customized lawn maintenance services that will meet your needs and fit your budget. We have been serving the local area for over 18 years and this time have handled a significant number of turf maintenance projects for commercial and residential clients. 
In most instances, our lawn care solutions are packaged into an overall landscape maintenance plan. Most of our clients hire us for comprehensive services as it provides them value for money. However, if you need to hire us exclusively for turf care, we are more than happy to help.
Our Lawn Maintenance Work Process
We understand that while grass everywhere may look the same, there are different types of grass species that could be installed in lawn spaces. It is why we take the time to assess the grass that is on your property, understand what kind of topsoil you have and whether the drainage system and irrigation system are appropriate and then create the type of lawn care plan that will suit your grass.
If we find that any of the aspects are not up to the mark, we will provide solutions along with affordable quotations. Once you have approved the lawn care cost, our team will come in at the specified intervals to ensure that the lawns are looked after and cared for. We use the latest mowing equipment so that the job is completed quickly and efficiently.
Organic Lawn Maintenance Solutions
Our company always uses organic lawn fertilizers and pest control products in every project as this helps to keep the grass healthy while providing it with the nutrition it requires. Core aeration is also done two times a year to ensure that the topsoil is loose enough to allow oxygen and nutrition to reach the roots of the grass.
We are committed to providing our clients value for money. Our company understands that the needs of commercial customers will be quite different from residential ones. In most cases, commercial lawns are more expansive than residential properties.
We take the time to discuss your requirements so that the customized lawn care plans that we offer to meet your needs perfectly. When you hire us, you have peace of mind that your lawns will get regular, expert attention and care, which helps them to thrive and improves their sustainability.   For any more information related to our lawn maintenance services, feel free to contact Wellman's LandVision (WLV) at this number – 260-728-2976. You can also drop us an email, with details of your project through this Online Form and one of our team members will contact you soon.