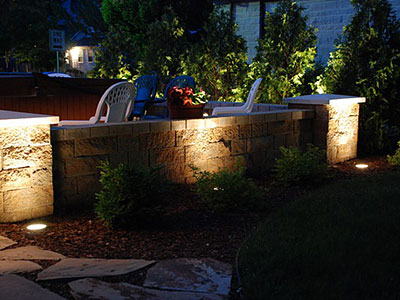 Wellman's LandVision (WLV) believes landscape lighting is about beautifying all that is natural and man-made in your landscaping. Whether it is the pathway, area, or directional lighting, it should blend unobtrusively into your landscaping, harmonizing with both nature and architecture. Your lighting will extend your hours of outdoor enjoyment by providing a chorus of shadows and three-dimensional views.
In addition, your lighting will enhance your safety and security while illuminating your evening scene with beauty and romance.The installation will be performed by a Landscape Lighting Academy Graduate. WLV's brass lighting fixtures and transformers carry lifetime warranties. Please contact us for additional information about our Warranty Terms, Maintenance Contracts, and Extended Warranties.
Many different aspects go into planning and designing the perfect landscape. Whether you are getting a residential or commercial landscape designed and installed, you would need to make sure that it is illuminated appropriately. Poorly lit outdoor spaces are not only unsafe for use but do not look attractive or welcoming either.
As a full-service landscaping company, we understand what it takes to create a well-balanced landscape that will enhance the appeal of your property and increase its value. We at Wellman's LandVision (WLV) offer customized exterior lighting services that will meet your needs and fit your budget.
Experienced Landscape Lighting Experts
We have been serving the local area for over 18 years and this time have handled a significant number of similar projects for commercial and residential clients. Our experts can provide you with high-quality landscape lighting solutions. Based on the layout of the available space and the types of features installed in it, our team will recommend which types of yard lighting features would be best suited for your property. 
They will keep aspects such as adequate illumination, energy-efficiency as well as aesthetics in view while recommending solutions. We use the best quality outdoor-grade lighting fixtures and fittings and complete the job safely and efficiently at affordable landscape lighting costs.
For any more details about our landscape lighting services, feel free to contact Wellman's LandVision (WLV) at this number – 260-728-2976. You can also drop us an email, with details of your project through this Online Form and one of our team members will contact you soon.