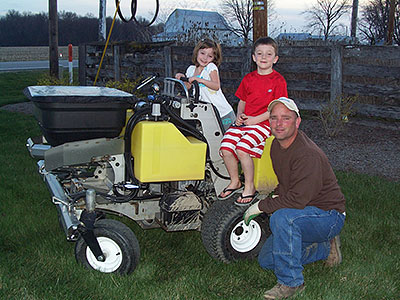 All the plantings, grass and trees on your property need regular care and maintenance to stay healthy and drive. Once you get the right quality plants installed, you also need to make sure that timely turf fertility and pesticide applications are done at regular intervals.
Customized Turf Applications
All of these are incredibly specialized jobs that require proper knowledge and understanding of soil quality, pH balance, and aerating. Other aspects like lawn rolling, overseeding etc. need to be considered as well. It is why you need the services of a company that has in-depth knowledge about various aspects of planting and horticulture.
We at Wellman's LandVision (WLV) offer customized lawn application services that will meet your needs and fit your budget. We have been serving the local area for over 18 years and this time have handled a significant number of lawn maintenance projects for commercial and residential clients.  
While most of our clients get lawn maintenance and applications done from us, these are generally part and parcel of the regular landscape maintenance tasks. However, we can provide you with any of these services exclusively as required. You will find that our solutions are cost-effective, which means that they do not strain your budget as these are recurring costs.
Affordable Lawn Care Services
We aim to provide our clients value for money and work very closely with them to ensure that their objectives are met, and that they get stunning and beautiful landscapes that are healthy and sustainable. Whether you need turf applications for residential lawn spaces for your commercial lawns, we can help.
Wellman's LandVision (WLV) provides cost-effective Turf Fertility and Pesticide Application Programs for commercial and residential clients. Our programs will give your lawn the look that it deserves.
WLV's Turf Fertility and Pesticide Programs are based on the latest recommendations from Purdue University's Turf and Pesticide Program along with actual field conditions and experience. While having the most current programs available, WLV uses state-of-the-art equipment to achieve the most accurate and cost effective applications in the local area. We also apply all post-emergent herbicides and some pre-emergent herbicides in liquid form to achieve the greatest control of unwanted annual and perennial grasses and broadleaves.
In addition to our the basic programs we also offer insecticide applications, soil tests, pH balancing, lawn rolling, aerating, and overseeding.
Please contact us to receive a letter containing detailed information about our individual programs and pricing.