Landscape & Hardscape Products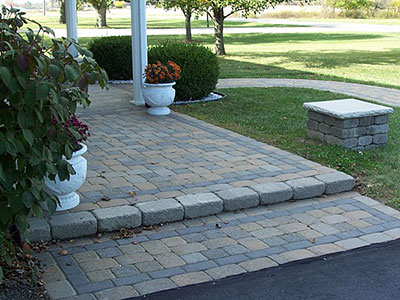 Landscaping is an art, and a science rolled into one. The only way to make sure that you have sustainable, easy-to-maintain, and long-lasting outdoor spaces are to use excellent quality materials and products in the project. Today, there is no shortage of hardscaping materials on the market. When you start to look, you will find various products that can be used to build various landscape features and elements. 
High-Grade Landscaping Products
But all products are not made equal. Aside from looks, you also need to ensure that these materials would be able to endure exposure to the weather and last long. This is where our knowledge and expertise come in.
We at Wellman's LandVision (WLV) offer a wide range of products that can be used in our landscaping projects. These products are unique in appearance, resilient, and built to last. We only recommend the best quality hardscaping and softscaping products and install them as per industry standards and manufacturer instructions. This ensures their warranties stay valid, and you get beautiful outdoor features for your property.
Product Selection Services
We understand that every client works on a specific budget, and it is why we always take the time to understand your requirements before recommending any products like pavers or retaining wall systems, and more. We always make sure that you get the types of landscaping materials you need that fit into your budget.
Our company has been serving the local area for over 18 years. In this time have handled a significant number of projects for commercial and residential clients. We are here to help with all your product selections, and our expert designers will guide your choices. Creating stunning outdoor spaces is what we are passionate about, and our expertise lies in offering reliable, customized, and personalized product selection services. 
For any more information related to the products we offer, feel free to contact Wellman's LandVision (WLV) at this number – 260-728-2976. You can also drop us an email with details of your project through this Online Form, and one of our team members will contact you soon.
Wellman's LandVision (WLV) uses the highest quality materials available. Our products are not found at your local hardware store or home center outlet. We have access to numerous products from different wholesale manufacturers and growers. These products meet all applicable ASTM specifications and most importantly our own standards and specifications.
Warranty terms for our products vary from product to product. Many of our hardscape and lighting products carry lifetime warranties. Our nursery stock items have a 1-year product warranty if we are contracted to water and maintain the nursery stock during the warranty period. Please contact us for additional information about our Warranty Terms, Maintenance Contracts, and Extended Warranties.